History:
CNC Construction was founded by experienced construction and development managers to focus on securing high-quality projects that utilize cutting-edge techniques and state of the art protocols. CNC's founders are well-respected in the industry, with each of them possessing over thirty years of experience in the development of properties and vertical construction venues.
CNC's exceptional success and growth are a result of the quality and diversity of our work experience and our commitment to excellence. ​
---
Leadership: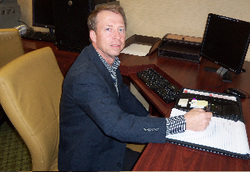 Mike Chambers, CEO and founder of CNC Construction
,
has developed projects across the nation, including large-scale, mixed use commercial, retail, residential and office space.
His 30-year career has provided unique experience in nearly every facet of construction and development. Each project, no matter the scale, is attended to with dedication and care. His projects have spanned the continental United States, ranging in scope from: 3,000 homestead sites, development of big box retail stores, multi-story buildings, shopping centers and interior remodels. Mike has always maintained responsibility for each and every project to ensure adherence to the integrity and expertise that has come to define his work.
Mike holds a Bachelors of Science in Business Administration and has extensive experience in building construction protocols from the ground up. He rebuilt the entire Mervyns Construction and Development department, managing department budgets exceeding $200 million annually. His dedication to client satisfaction and delivering quality projects has earned CNC the reputation of being a company that delivers quality construction with an eye on the future.
---